Dr. Anil Gupta, General Manager - R&D receives the 2011 Business Leader Award from CHEMTECH foundation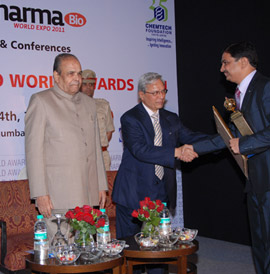 Shri Kateekal Sankaranarayanan, Honorable Governor for the State of Maharashtra bestowed the Business Leader of the year 2011 award to Dr. Anil Gupta during a gala ceremony on 24th February 2011 at Hotel Leela Kempinski in Mumbai.
The CHEMTECH CEW Leadership & Excellence Award ceremony was organized by the CHEMTECH foundation as a part of silver jubilee celebration of CHEMTECH World Expo function.C.L. Rathi, Managing Director of AETL, with a sense of pride said, "A very proud moment for all of us at Advanced Enzymes since our R&D General Manager is being honored with such a prestigious award for Innovation.
It is in fact an award to our entire R&D segment and company since all of us have worked to translate innovation for betterment of Humanity."
On receipt of such an honour, Dr. Anil Gupta humbly said, "I feel intensely proud and privileged to be included in the elite group of Chemtech CEW award recipients. This recognition increases my responsibility and motivation to do better work. Receiving the award and attending the ceremony was tremendously inspiring and memorable. This award truly recognizes AETL's pioneering contribution in the field of enzymes."
All the members of CHEMTECH Award Committee applauded for Dr. Anil Gupta's achievement, including Mr. K G Ramanathan, Advisor of Reliance Industries and Mr. Jasu Shah, Chairman of CHEMTECH Foundation.